The nature and reactions of lignin -
a new paradigm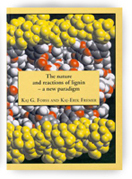 Authors: Kaj G. Forss and Kaj-Erik Fremer 

Printed by Oy Nord Print Ab, Helsinki 2003 

Pages: 555 hardbound pages

ISBN 952-91-4091-6




Lignin , which represents nearly one-third of plant tissues, is a key participant in the formation of organic material in the biosphere. Its reactions play a vital role in the manufacture of paper. 


It is believed that lignin is a single polymer formed through random reactions outside genetic control and that it cannot be described by an exact formula.


The authors show that lignin is NOT one polymer but a group of lignins. In the conifer Norway spruce (Picea abies) a polymer, which they call glycolignin, constitutes some 85 percent of the lignins.


Glycolignin is described as an ordered polymer. The development of a 3-dimensional formula is described step by step. This formula enables glycolignin reactions (including color formation) to be described quantitatively and kinetically.


To help the reader to assess the findings, the experimentally obtained data on which the authors base their theory is included in the book.
The book is available from: 


Akateeminen Kirjakauppa (The Academic Bookstore) 

POB 128, 00101 Helsinki, Finland 

www.akateeminen.com

Orders/enquires by e-mail to bookexport@akateeminen.com


Tappi Press

15 Technology Parkway South, Norcross GA 30092, USA

www.tappi.org